Another reason I like iPhone: Android Platform Abandonment
Submitted by Jeff Kendall on Thu, 2011-10-27 11:55
I'm well into my second year of iPhone 4 ownership and I get asked from time to time why I didn't pick Android. At the time, I was considering an HTC Droid Incredible and you couldn't get Froyo on the Incredible. I had lived through what it was like to walk around with Blackberry OS 4.2.2.195 and 4.5 in an OS 5 world where everything from apps to themes wouldn't work on my janked up old phone. I wasn't going there again. At the time, I had an iPod Touch and an iPad so I already know I was happy with the way iOS worked.
My close brush with the Incredible gave me a vague glimpse of how chaotic things are on the Android side of the aisle, but now someone over at theunderstatement.com has put together an informative graphic that captures the glaring difference between iOS and Android device support...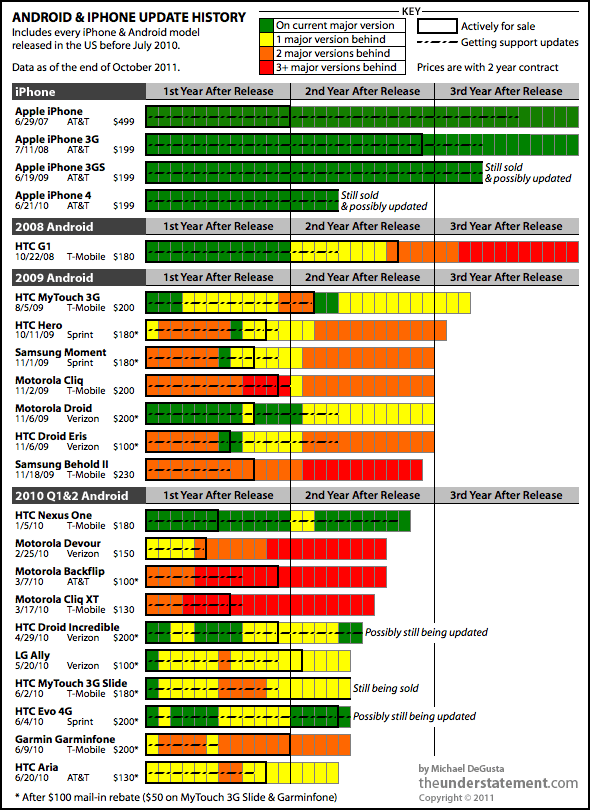 Objectively and subjectively I made the right decision choosing iPhone 4. More info available at the source link. This chart provides part of the objective information and the half a million apps I can choose from provides even more...
I recently moved half the family from mobileme to iCloud and so far everything "just works." That's really all I ask of my tech gadgets. They simply have to work. I believe that I'm not supposed to have to think about whether a particular app is compatible with my device or my software version.
Apple has broken this a few times recently in the transition from iOS 3.x to 4.x and from 4.x to 5.x. I went to the app store to grab the latest Pages or Numbers and was told I needed the new iOS. But this was a minor infraction. I knew that the updated version of these particular apps relied on features in the new OS and I was quite content to wait. What made my life easy was that the other 300+ apps on my phone all continued to work and I could still choose from the remaining 500,000+ apps in the app store. Another factor was the lengthy process involved in getting an iOS update and the lack of an OTA update capability. Both of these are addressed in iOS 5.
»
Login to post comments

9153 reads